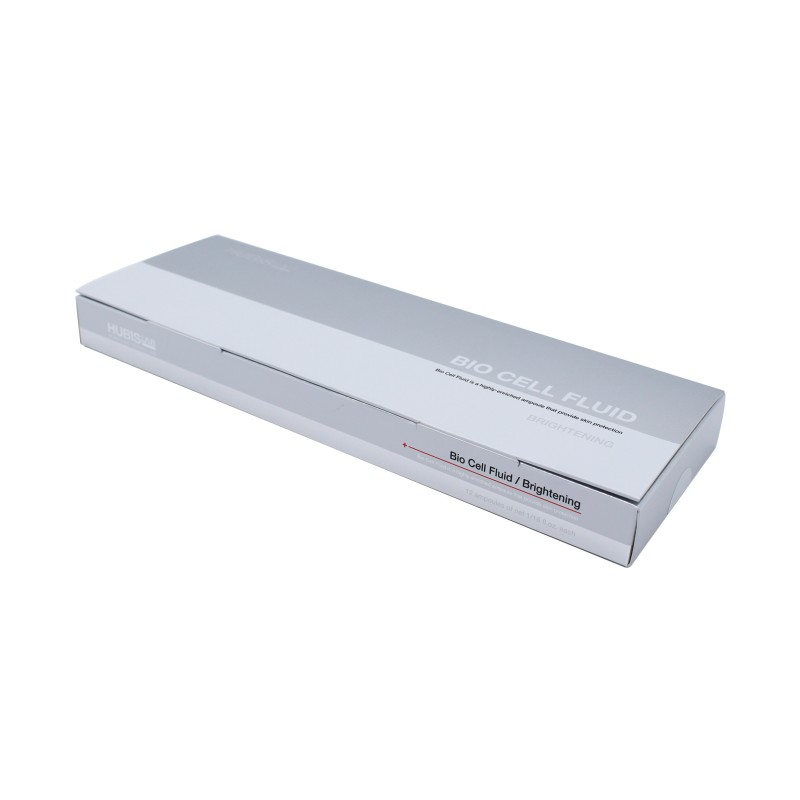  
HUBISLAB Bio Cell Brightening Fluid, 12x2 ml
Brightening fluid helps even out skin tone, prevents pigmentation, and enhances protection against free radicals.
The arbutin contained in the composition brightens, moisturizes and gives the skin elasticity, while the green tea extract slows down the aging process.
Active Ingredients:
Arbutin. A natural whitening ingredients extracted from cowberry trees, suppress the activity of the enzyme Tyrosinase that acts as melanin formation process to inhibit excessive melanin production which lead to spots, freckles, spots. It shows great brightening effects;
Camellia Sinensis (Green Tea) Leaf Extract. Helps to revitalize and energize tired skin due to aging by removing oxygen free radical which is harmful to skin;
Morus Alba Bark Extract. Makes skin clear and bright by prevents and inhibits pigmentation such as freckles and spots;
Rosmarinus Officinalis (Rosemary) Extract. Helps to energize and give vitality to skin by preventing skin oxidation;
Niacinamide. Niacinamide is KFDA approved for its skin whitening effects. It inhibits tyrosinase production, which decreases melanin formation to reduce the appearance of sun damage and hyperpigmentation;
How to use: Apply an adequate amount after toning.
Presentation: 12x2 ml
HUBISLAB, Korea
3 other products in the same category:
Reference: BC-01-1
Moisturizing fluid balances the skin's pH level and protects it from drying out.
Reference: BC-04-1
Protects and can help reduce fine lines and wrinkles.
Reference: BC-02-1
Cleansing fluid protects the skin from bacterial proliferation and improves the condition of the skin.