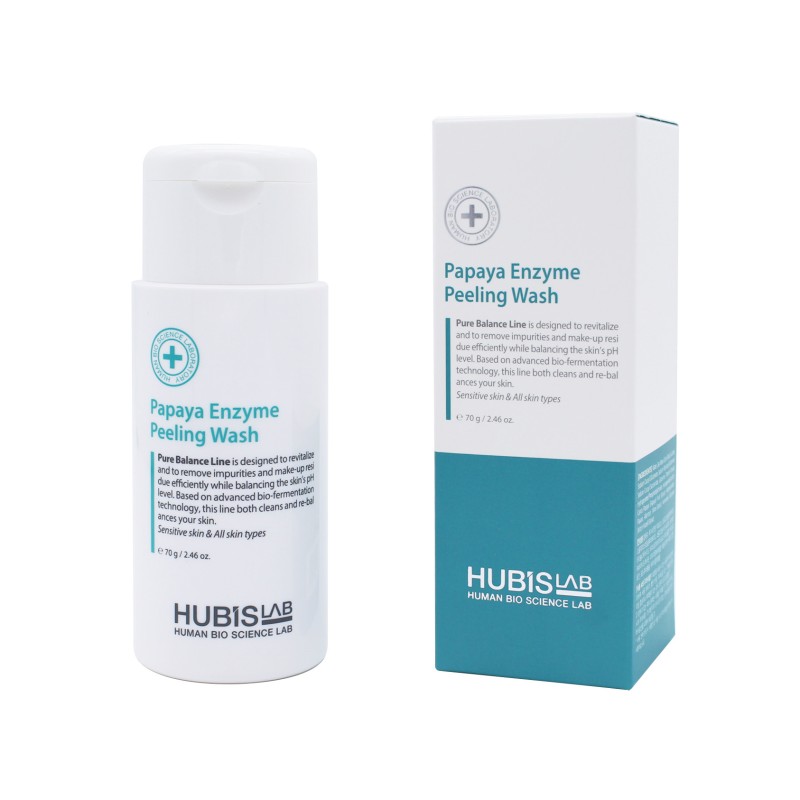  
HUBISLAB Papaya Enzyme Peeling Wash, 70 g
Plant enzyme-based deep cleanser. Natural papaya extract dissolves easily in cold water and eliminates dead skin cells without irritation.
Patented granular formula provides outstanding cleansing ability while keeping skin soft and moist.
The papain enzyme breaks down proteins to produce peptone, which washes away dirt and sebum within the pores without irritation, thereby keeping the skin clean and soft.
Natural active ingredients, such as lactose and hydrogenated lecithin, work to moisturize and revitalize the skin.
Active Ingredients:
Papain. Papain works great as an exfoliating agent. The enzyme from papaya has anti-inflammatory and antibacterial properties;
Bromelain. Natural pineapple enzyme that keeps the skin healthy;
Zea Mays (Corn) Starch. Fine antioxidant powder derived from corn that eliminates make-up residue;
Allantoin. It improves dry skin by soothing and moisturizing effect;
How to use: Rub an appropriate portion onto wet hands until foamy, massage onto the face and rinse. Use twice daily, once in the morning and once in the evening.
Deep cleansing: Use 2 to 3 times a week as a gentle facial scrub.
Foam cleansing: Work into a lather and use as a foam cleanser.
After laser treatment: This product works as an anti-inflammatory on medically treated skin. It targets and removes dead skin cells without further irritating the skin. Use this product frequently to improve skin tone.
For hair and scalp: This product may also be used as a shampoo to remove dead keratin from the scalp.
Presentation: 70 g
HUBISLAB, Korea
3 other products in the same category:
Reference: PB-01-1
Efficiently remove makeup residue from sensitive skin around the eyes and lips.
Reference: PB-03-1
Mild, milk-based cleanser for all skin types. Effectively removes make-up residues.
Reference: PB-04-1
Effective cleaning, removes excess fat and dead skin cells, does not irritate the skin.