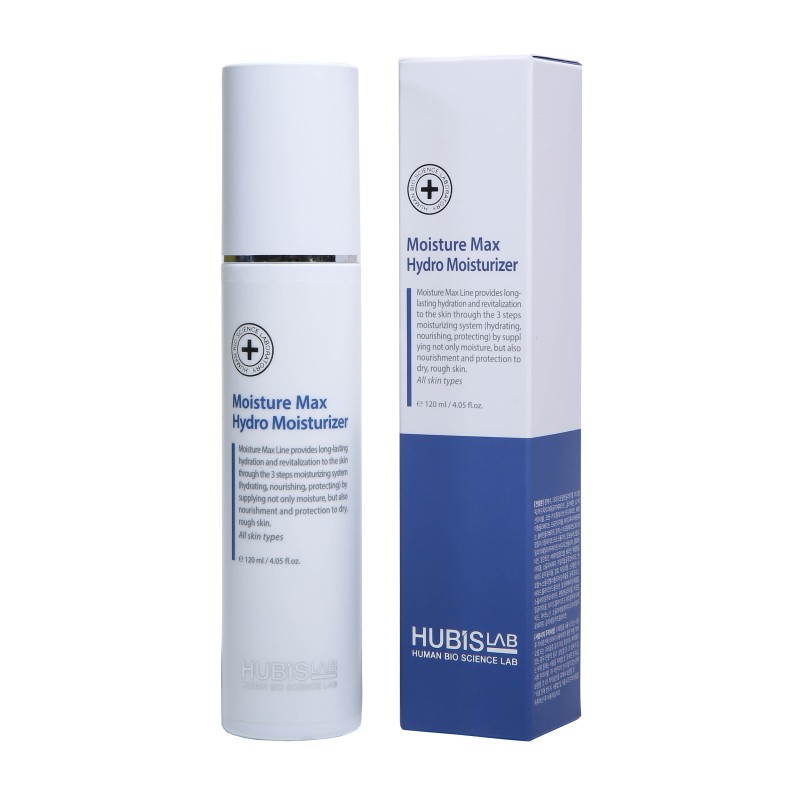  
HUBISLAB Moisture Max Hydro Moisturizer, 120 ml
Moisturizer which absorb quickly without any sticky feelings and becoming more moisturized over time.
Excellent moisturizer that prorides smooth skin and keeps dry skin moisturized for a long period of time.
It is moist yet soft, emulsified cream type that absorbs quickly without stickiness. It is suitable even for those who doesn't like to use lotion due to its stickiness or stuffiness.
Active Ingredients:
Algae Extract (Myrothamnus Flabellifolia Leaf Extract). Growing in the middle of South African rocks, the resistance to drying is so great that it can be used as a moisturizing ingredient;
AQUAXYL. It strengthens the skin barrier, promotes healthy differentiation of the epidermis and refills the internal water reservoirs;
TRIPLE HA. A combination of 3 types of hyaluronic acid (Sodium Hyaluronate, Hydrolized Hyaluronic Acid, Sodium Acetylated Hydrochloride) that provides excellent hydration;
Hydrolyzed Collagen. A type of marine collagen extracted from fish rich in amino acids that has excellent skin friendliness and moisturization, and excellent absorption helps moisturize and vitalize the skin to maintain the skin function;
How to use: After toner, dispense an adequate amount and apply all over the face and neck. Gently pat to improve absorption.
A pea-sized amount is generally sufficient for the face and neck.
Presentation: 120 ml
HUBISLAB, Korea
3 other products in the same category:
Reference: MM-02-1
Strengthening the skin moisture by using NMF (Natural Moisturizing Factors).
Reference: MM-01-1
Extra moisturizing cleansing foam. Rich, fine bubbles not only gently clean dirt from the surface of the skin, but also the pores. Protects the skin from drying out, retains the necessary moisture.
Reference: MM-04-1
Fast and powerful moisturizing supply helps remove skin irritation quickly and provides a glossy moisturizing film that keeps skin moisturized for a long time.