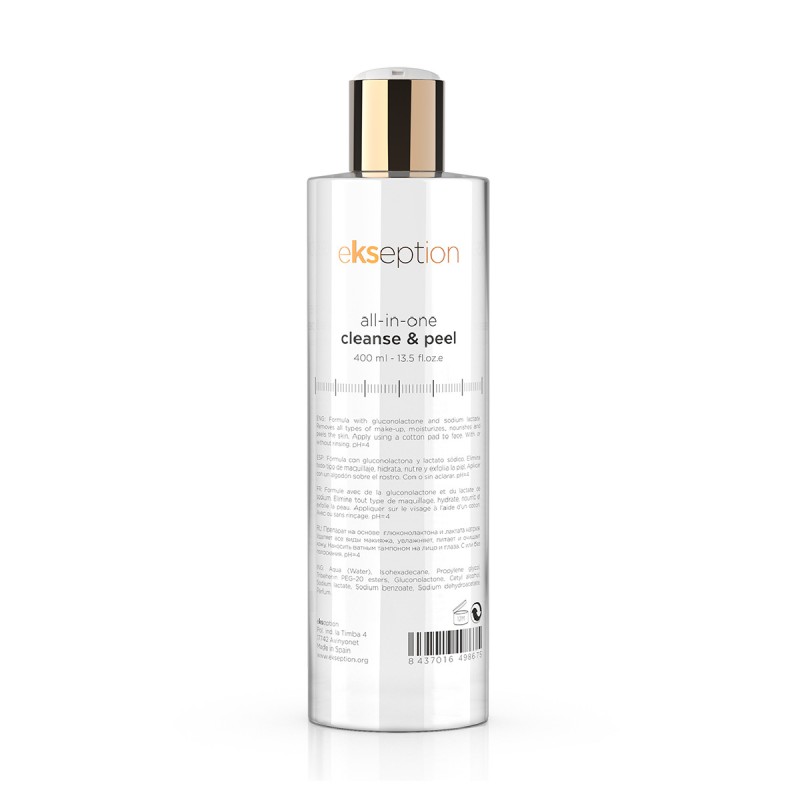  
ALL IN ONE CLEANSE & PEEL, 400 ml
A new concept of cleansing and make-up removal combining polyhydroxy acids to perform at the same time a gentle skin exfoliation and balance the skin pH.
The all in one cleanser is a melting micro emulsion to remove the make-up for all skin types. Nourishing and moisturizing it is formulated for all skin types. This new generation of cleanser with polyhydroxy acids performs cleansing and micro peeling at the same time restoring an acidic pH of the skin. It can be use on face, eyes and lips.
pH=4,5
Indications:
Removes all types of make-up on face, eyes and lips contours;
Nourishes and moisturizes;
Removes dead cells and impurities;
Restores an optimum skin pH;
How to use: Apply daily on the whole face and neck. For optimal cleansing combine with the monsoon mist and apply a cream.
Key ingredients:
Gluconolactone;
Sodium lactate;
Volume: 400 ml
Made in Spain, Ekseption
Reference: 102
Ultra-refreshing cream with a glaciar texture to apply after peeling procedures.
16 other products in the same category: