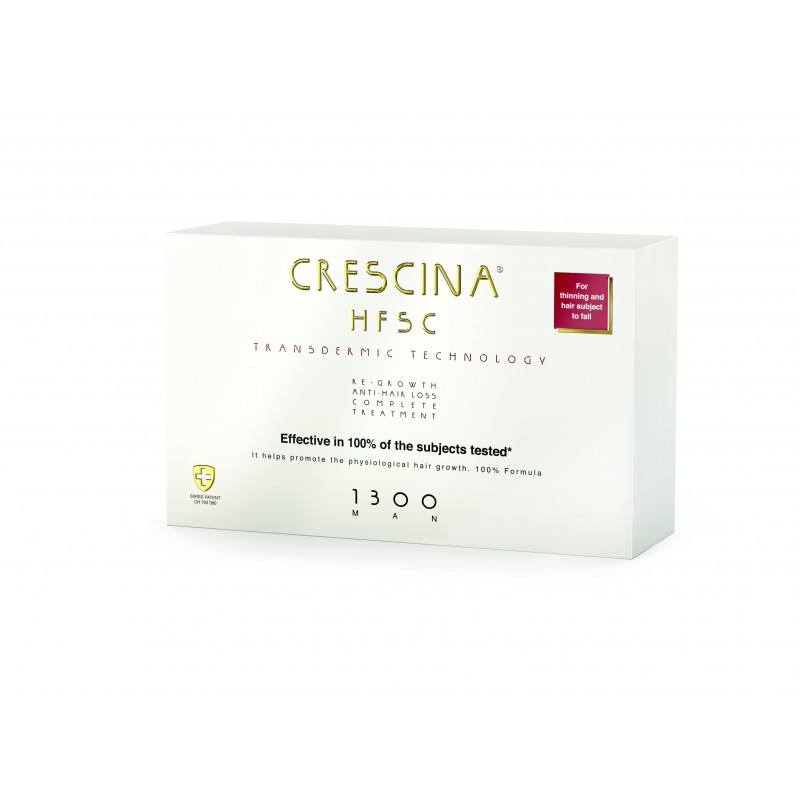  
CRESCINA TRANSDERMIC HFSC COMPLETE TREATMENT 1300 for Man, N10+10
Helps the physiological hair growth and helps stop the hair-loss.
Crescina Transdermic HFSC Complete Treatment is a topical dermo-cosmetic treatment in vials with double function: it helps the physiological hair growth and helps stop the hair-loss.
The packaging contains two vial types: amber vials contain Crescina Transdermic Re-Growth HFSC while transparent vial contain Crescina Transdermic Anti-Hair Loss, combining the basic active ingredients (Hydroxyproline, Aspartic Acid, Enzymatic Activator and Taurine) with Hydrolyzed Yeast Protein and Acetyl Tetrapeptide-3, helpful to reinforce hair from the root (in vitro test on the active ingredients), plus 3 enhancers to facilitate their penetration (Transdermic Technology) through both hair system and scalp. The formulation is enriched with the HSSC Complex.
Specific formulation for Man.
For thinning hair;
It helps promote the physiological hair growth;
It helps reduce hair loss;
How to Use: Apply to a dry and clean scalp, line by line, concentrating on the areas where thinning is most noticeable. Massage gently to help its penetration.
Crescina Transdermic Re-Growth HFSC vials contain 3,5 ml of the preparation and are suitable for a daily use during the first 5 days of the week, followed by a 2-day break. The 20 vials included in the box allow for a 1-month treatment.
For external use only. Do not inject. Do not swallow. Avoid contact with the eyes and the mucous membranes.
Presentation: 10+10 vials
Labo Cosprophar AG, Switzerland.
Reference: 8051417811231
Preserves cell longevity, fights against ageing and promotes the physiological hair growth.
Reference: 8051417838238
Special shampoo for thinning hair that promotes physiological hair regrowth.
7 other products in the same category: