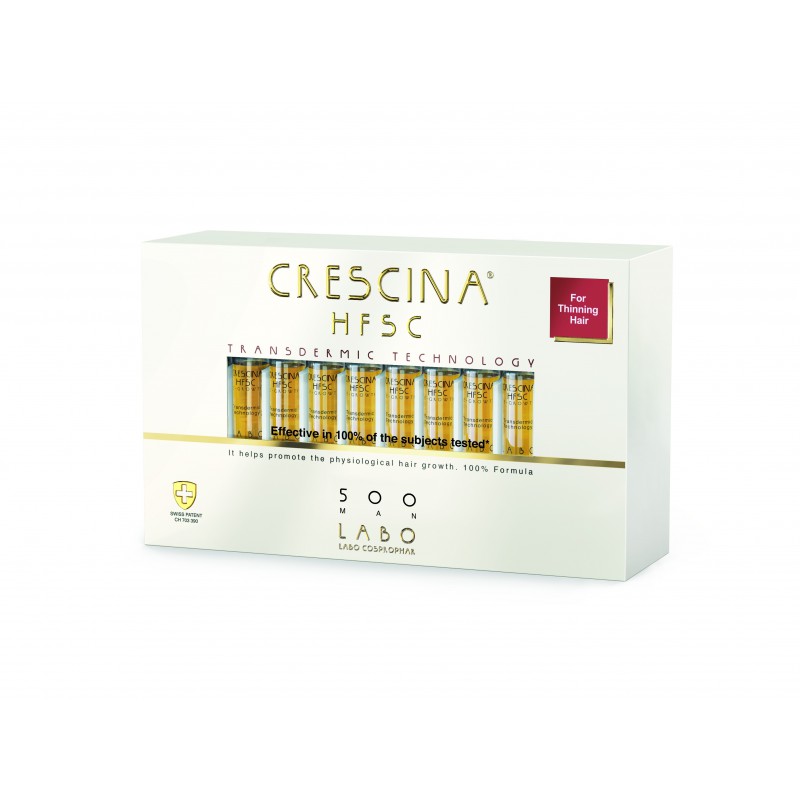  
CRESCINA TRANSDERMIC HFSC RE-GROWTH 500 for Man, N20
Preserves cell longevity, fights against ageing and promotes the physiological hair growth.
Crescina is the first dermo-cosmetic treatment in vials able to address the hair thinning phenomenon. Thanks to the patented Transdermic Technology, Crescina relaunches the physiological hair growth on the thinned areas of the scalp, by acting efficaciously on the hair follicles that are not completely atrophied.
Crescina Transdermic HFSC concentrates in one single vial Labo's expertise and cutting-edge technology: the Re-Growth Complex supports the production of new hair shafts, the HFSC Complex protects the hair stem cells, the new Re-Growth Booster Complex strengthens both hair and follicle and considates the activities of the previous complexes, 3 enhancers improve and facilitate the activity of the active ingredients.
Specific formulation for Man.
For thinning hair;
It helps promote the physiological hair growth;
How to Use: Apply the preparation to a dry and clean scalp, line by line, concentrating on the areas where thinning is most noticeable. Massage gently to help its penetration.
Crescina Transdermic Re-Growth HFSC vials contain 3,5 ml of the preparation and are suitable for a daily use during the first 5 days of the week, followed by a 2-day break. The 20 vials included in the box allow for a 1-month treatment.
For external use only. Do not inject. Do not swallow. Avoid contact with the eyes and the mucous membranes.
Ingredients: HFSC- ALCOHOL DENAT., AQUA, GLYCERIN, GLYCINE, METHIONINE, LYSINE HCL, BENZYL NICOTINATE, PENTYLENE GLYCOL, CAPRYLYL GLYCOL, BUTYLENE GLYCOL, ACETYL CYSTEINE, DECYLENE GLYCOL, BENZOPHENONE-4, LAMINARIA DIGITATA EXTRACT, GLYCYRRHETINIC ACID, MENTHOL, SILANEDIOL SALICYLATE, HYDROXYPROPYL CYCLODEXTRIN, TRIETHANOLAMINE, THREONINE, SERINE, HYDROLYZED PEA, ALLANTOIN, PROPYLENE GLYCOL, ADENOSINE, ZINC ACETYLMETHIONATE, HYDROLYZED RICE PROTEIN, HEMATITE EXTRACT, PHOSPHATIDYLCHOLINE, GLYCOPROTEINS, HYDROLYZED DNA, HYDROLYZED RNA, ERIOBOTRYA JAPONICA LEAF EXTRACT, GLYCINE SOJA (SOYBEAN) OIL, SODIUM OLEATE, GLUTAMIC ACID, ARTEMIA EXTRACT, COPPER TRIPEPTIDE-1, VALINE, PENTAPEPTIDE-31, HYDROLYZED SOY PROTEIN, HYDROGENATED LECITHIN, SODIUM METABISULFITE, SORBIC ACID, ETHYLHEXYLGLYCERIN, TRISODIUM EDTA, PHENOXYETHANOL, SODIUM BENZOATE, SALICYLIC ACID, DISODIUM EDTA, SODIUM HYDROXIDE, POTASSIUM SORBATE, CI 14720, CI 16255, CI 19140, CI 28440, CI 73015.
Presentation: 20 vials
Labo Cosprophar AG, Switzerland.
Reference: 8051417818230
Helps the physiological hair growth and helps stop the hair-loss.
Reference: 8051417838238
Special shampoo for thinning hair that promotes physiological hair regrowth.
7 other products in the same category: