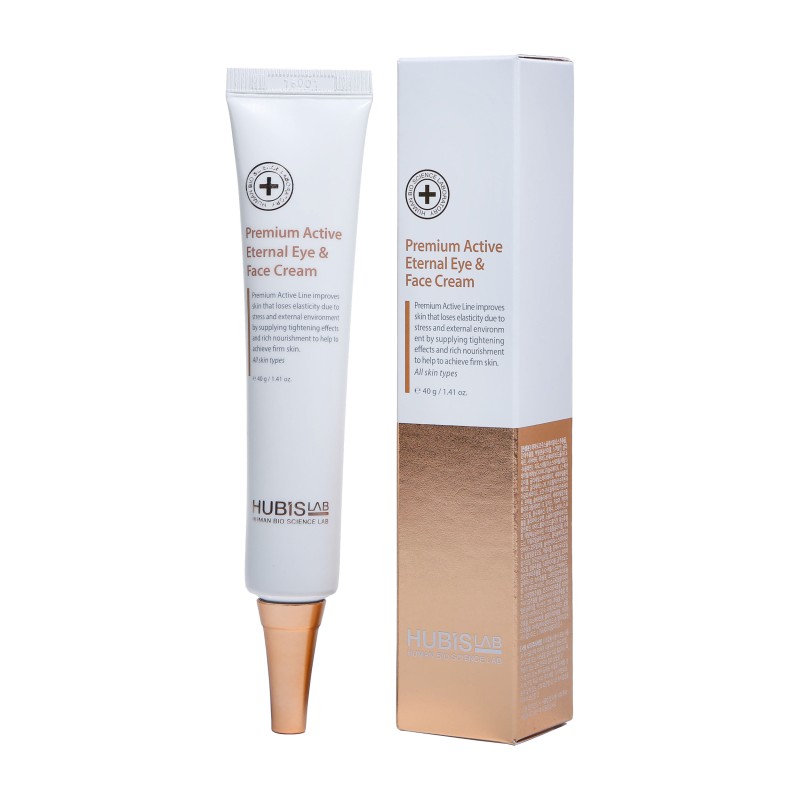  
HUBISLAB Premium Active Eternal Eye & Face Cream, 40 g
Can help reduce various types of wrinkles, improves rough skin structure, strengthens the skin's protective barrier, has a dual moisturizing and face-lifting effect.
Combination of patented botulinumderived ingredient and bio-antioxidants (haematococcus, deinococcus ferment extract filtrate, marine polyphenol).
BL Fill-UP, AQUAXYLTM, COS-VCE, Acemella Oleacea Extract, MultiEX BSASM Plus helps to improve six kinds of wrinkles, improve rough skin texture, strengthen skin barriers, and has double moisturizing, and face-lifting effects.
Active Ingredients:
Botulinum-derived component. Ingredient that is similar to Botox that is effective in improving wrinkles;
Deinococcus Ferment Extract Filtrate. An ectopic microorganism that survives in extreme environment which has a strong life force and antioxidant effect;
How to use: Use every morning and evening as the last skin care step. Apply an appropriate amount onto face and around the eyes.
Presentation: 40 g
HUBISLAB, Korea
2 other products in the same category:
Reference: PA-02-1
Contains botulinum-derived ingredient, a similar substance of Botox, which is effective in correcting wrinkles.
Reference: PA-01-1
Strong moisturizing bio serum of the highest quality.