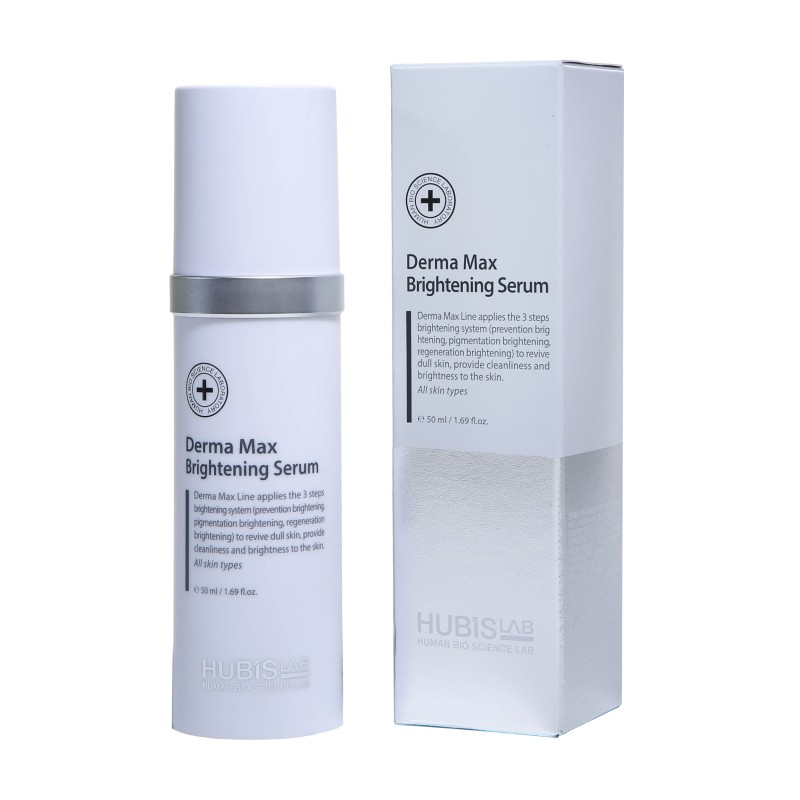  
HUBISLAB Derma Max Brightening Serum, 50 ml
Patented ingredient MADEWHITE and COS-VCE which uses vitamin-C to induce light skin tone. Control water balance.
Suppresses melanin formation with patented whitening agent MADEWHITE, vitamin C, derivatives COS-VCE, and vitamin B compounds and keeps the skin complexion bright. It also suppresses the production of free radicals and melanin by a tripeptide, which connects by glutamic acid, cysteine, and glycine.
Trehalose is a type of sugar present in the natural world such as microorganisms, plants, and insects. It also contains sodium hyaluronate, which absorbs moisture 1,000 times of its weight, which forms a moisturizing membrane on its skin.
Active Ingredients:
Algae Extract (Myrothamnus Flabellifolia Leaf Extract). Growing in the middle of South African rocks, the resistance to drying is so great that it can be used as a moisturizing ingredient;
Niacinamide. Hydrates the skin, delays aging, and is used to treat acne and redness patients. It is an ingredient that does not develop drug resistance and can produce better results for acne treatment than antibiotics;
Glutathione. One of the amino acids, a tripeptide which connects glutamic acid, cysteine, and glycine, helps to whiten skin complexion by suppressing active oxygen and melanin production;
Trehalose. Possesses a superior hydration capability and is highly effective for soothing the skin;
How to use: At the serum stage, dispense an adequate amount and apply over the face and neck. Gently pat to improve absorption.
Presentation: 50 ml
HUBISLAB, Korea
2 other products in the same category:
Reference: DM-03-1
Pigmentation-correcting and whitening, provides strong moisturization. Skin soothing cream.
Reference: DM-02-1
Immediate whitening effect. Adjusting the oil-water balance.