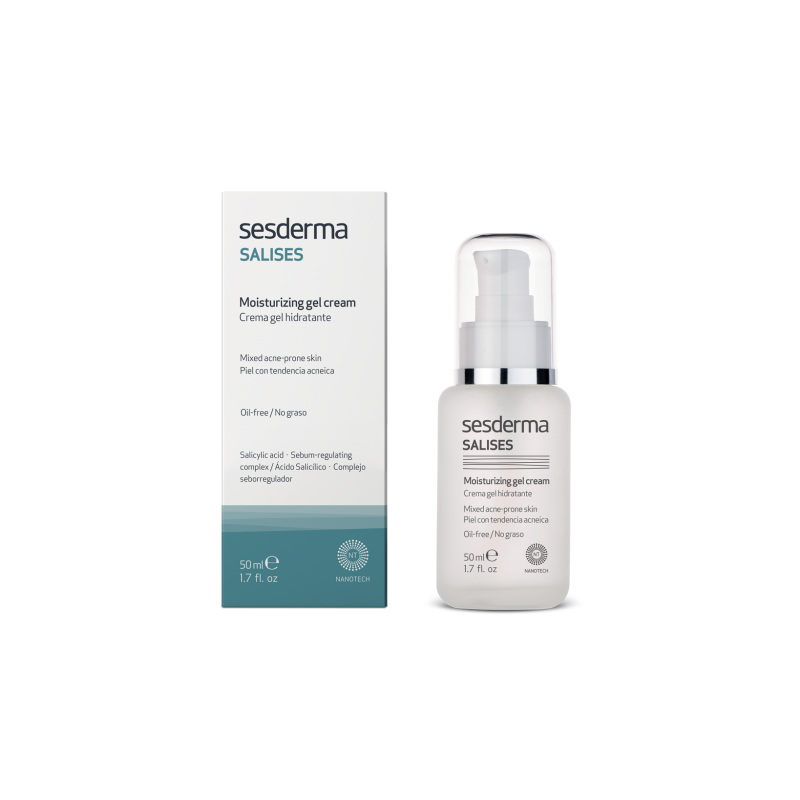  
SALISES Moisturising Gel Cream, 50 ml
Daily moisturisation in gel cream format, which helps regulate sebum production and remove impurities in combination skins.
Hydration is a must to nourish the face skin, improve its aspect and strengthen it against external agents. Bet on this fluid gel cream to balance sebum secretion and obtain a twofold effect (on surface and in depth), thanks to the effect of free and liposomal salicylic acid!
With proper care, it's possible to manage it, control it and even make the most of it!
Suitable for combination, acne- prone skin, and if you need to moisturise your skin.
Benefits:
Hydration for acne-prone skins;
Helps reduce the excess of sebum production;
Soothes the skin without leaving an oily sensation;
Feeling of freshness;
Keratolytic and exfoliating effect;
How to use:
Cleanse and tone your skin with Salises dermatological bar and Sensyses Sebum. Apply on previously dampened skin and massage gently until you obtain a foamy cream. Rinse with abundant water. Avoid contact with eyes. It isn't photosensitive or irritating;
Next, apply Salises Moisturising Gel, if you have oily skin, massaging softly on face, neck and cleavage. The correct amount is obtained by pressing the pump 3 times, to be evenly extended. You can use it both in the morning and/or at night;
And don't forget to use sunscreen;
Composition: Its formula contains free and liposomal salicylic acid nicotinamide, sebum-regulating complex, zinc salts, aloe vera, soothing solution, camomile and panthenol.
Presentation: 50 ml
Manufacturer: Sesderma, Spain.
Reference: 40000053
Salises foamy soapless cream regulates the sebum excess and unclogs pores.
Reference: 40002447
Highly antioxidant, anti-wrinkles and brightening serum which restores vitality and brings a natural glow to your skin.
Reference: 40000145
Maximum-effect moisturising facial cream thanks to its 3 types of hyaluronic acid. Replenishes surface wrinkles and provides maximum comfort and hydration in the deeper layers of the skin. High tolerance even on the most sensitive skins.
16 other products in the same category: