There are no more items in your cart
Shipping

Free

Total

€0.00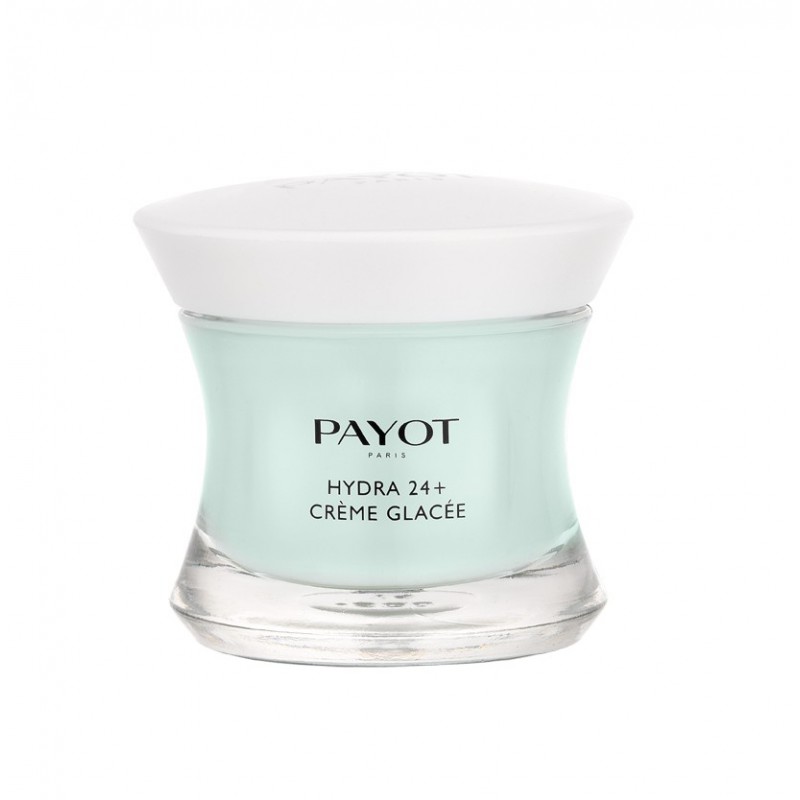  
HYDRA 24+ CRÈME GLACÉE, 50 ml
Plumping moisturising care with Hydro Defence complex.
Daily moisturising and plumping care, ideal for normal to dry skin. This silky, rich and satin-soft cream melts deliciously into the skin for intense 24-hour hydration and immediate and long-lasting comfort.
Apply all over a perfectly cleansed face and neck. Morning and evening. Complete your moisturizing routine with the comforting super moisturizing mask Hydra 24+ Baume-En-Masque to achieve maximum results.
Results:
The skin is fresh, soft and plump;
Both fine lines and expression lines are smoothed;
The complexion is luminous and radiant;
Ideal for: Dehydrated skin
Texture: Silky cream
Presentation: Jar of 50 ml
Made in France, PAYOT
Reference: 65108987
Brand: PAYOT
Super hydrating comforting mask with Hydro Defence complex.
16 other products in the same category:
Brand: PAYOT
Intense sun protection and shields skin from photoageing. For all skin types.
Reference: 65116554
Brand: PAYOT
Radiance day care with superfruit extracts. moisturising day cream is the ideal day care for a healthy glow in the morning. This is the first beauty step to take: the face is radiant and perfectly hydrated for the day. Fruity, its melting texture is a delight, say goodbye to dullness and signs of fatigue!
Reference: 65108269
Brand: PAYOT
Creamy moisturising foam with raspberry extracts soap-free.
Reference: 65116827
Brand: PAYOT
Blue chrono-regenerating balm. No more worrying about late nights and lack of sleep: this treatment's regenerating action works in the dark, revealing relaxed features and rested skin upon awakening.
Reference: 65117317
Brand: PAYOT
Fresh and purifying ritual dedicated to men.
Reference: 65116945
Brand: PAYOT
Dual-textured waterproof make-up remover with raspberry extracts. Tested under ophthalmological control. It suitable for sensitive eyes and contact lens wearers.
Reference: 65116241
Brand: PAYOT
Daily radiance care. The radiance care specifically designed for normal to combination skin. Because combination skin has a duller complexion, a thicker texture and some shiny areas, it needs very specific care.
Reference: 65117386
Brand: PAYOT
Purifying and anti-imperfections sheet mask. Discover PAYOT Morning Masks, eco-friendly sheet masks for express beauty in 15 minutes flat.
Reference: 65116823
Brand: PAYOT
Chrono-smoothing cream. This chrono-biological melt-in cream will help fight daily aggressions all day long. Skin is protected from the effects of blue light. Wrinkles and fine lines are smoothed.
Reference: 65117144
Brand: PAYOT
Dual redensifying and lifting action cream. Its unique formulas combine a collagen-boosting peptide with a patented active ingredient derived from Damask rose.
Reference: 65117390
Brand: PAYOT
Moisturising and plumping sheet mask. Discover PAYOT Morning Masks. Perfect for rushed mornings, these masks offer you express beauty in 15 minutes flat.
Reference: 65116279
Brand: PAYOT
Exfoliation gel in oil. This melting scrub contains real raspberry seeds for super-soft exfoliation. First, during application, its gel texture transforms under your fingertips into a divine oil to capture all the impurities on your skin without harshness. Then when you add water to rinse it off, it turns into a generous milk that leaves skin soft,...
Reference: 65108986
Brand: PAYOT
Moisturising reviving eyes roll on with Hydro Defence complex.
Reference: 65116708
Brand: PAYOT
Anti-imperfections facial cleanser. Men's skin is left fresh and purified, it is soft with a refined texture, and its original radiance is restored.
Reference: 65117312
Brand: PAYOT
Comforting moisturising micellar milk with raspberry extracts.