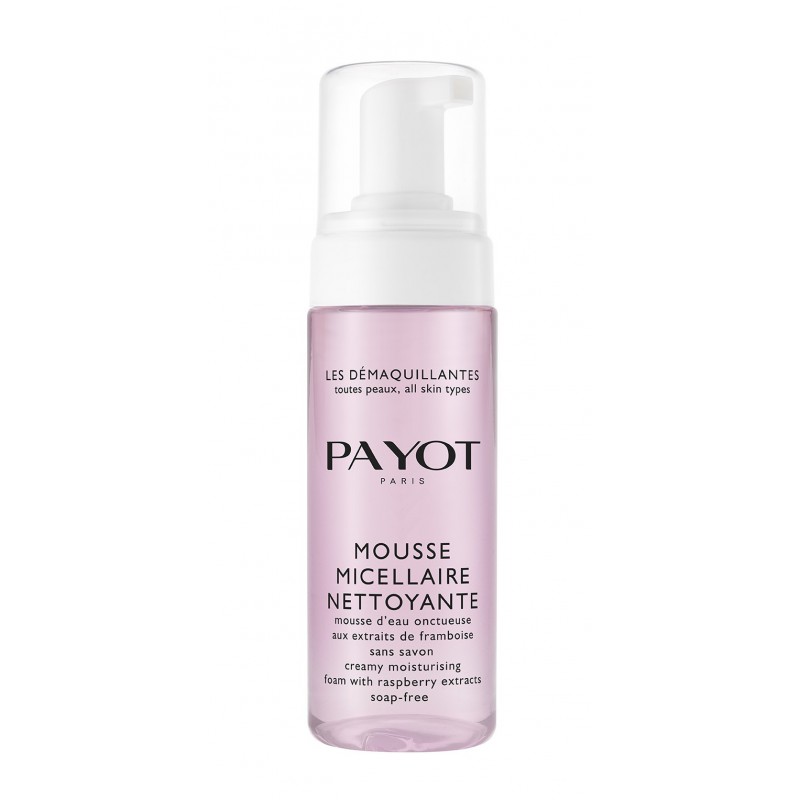  
MOUSSE MICELLAIRE NETTOYANTE, 150 ml
Creamy moisturising foam with raspberry extracts soap-free.
Mousse Micellaire Nettoyante gently cleanses the face thanks to its soap-free formula. Its cremy foaming texture leaves skin perfectly clean, fresh and soft.
Clear lotion that transforms into a light and creamy white lather in just one step.
Apply morning and/or evening to slightly damp skin and massage in. Rinse with clear water.
Ideal for: All skin types
Texture: Lotion / Foam
Presentation: Pump bottle of 150 ml
Made in France, PAYOT
Reference: 65117331
Comforting moisturising micellar milk with raspberry extracts.
16 other products in the same category:
Reference: 65117291
Gently lifts the eye contour and widens the eyes while reducing puffiness and dark circles. For all skin types.
Reference: 65116827
Blue chrono-regenerating balm. No more worrying about late nights and lack of sleep: this treatment's regenerating action works in the dark, revealing relaxed features and rested skin upon awakening.
Reference: 65116279
Exfoliation gel in oil. This melting scrub contains real raspberry seeds for super-soft exfoliation. First, during application, its gel texture transforms under your fingertips into a divine oil to capture all the impurities on your skin without harshness. Then when you add water to rinse it off, it turns into a generous milk that leaves skin soft,...
Reference: 65116745
Plumping priming infusion.
Reference: 65108987
Super hydrating comforting mask with Hydro Defence complex.
Reference: 65117342
Moisturising and plumping sheet mask. Discover PAYOT Morning Masks. Perfect for rushed mornings, these masks offer you express beauty in 15 minutes flat.
Reference: 65117340
Smoothing and lifting sheet mask. Discover PAYOT Morning Masks, eco-friendly sheet masks for express beauty in 15 minutes flat!
Reference: 65108985
Plumping moisturising care with Hydro Defence complex.
Reference: 65117144
Dual redensifying and lifting action cream. Its unique formulas combine a collagen-boosting peptide with a patented active ingredient derived from Damask rose.
Reference: 65108270
Refreshing make-up removing water for face and eyes with raspberry extracts.
Reference: 65116823
Chrono-smoothing cream. This chrono-biological melt-in cream will help fight daily aggressions all day long. Skin is protected from the effects of blue light. Wrinkles and fine lines are smoothed.
Reference: 65117178
Intense sun protection and shields skin from photoageing. For all skin types.
Price
€34.85
Regular price
€41.00
 In stock
Reference: 65100233
Anti-pollution vivifying mist. Is a light, airy water mist that refreshes and invigorates. It is a real multi-purpose tool in your beauty belt that can be used throughout the day.
Reference: 65117647
Crackling foam new skin effect. Rediscover your skin in a fresh light – it'll feel like new! This peeling mask with its triple action – oxygenating, detoxifying, and neutralising pollution – injects new vitality to dull, choked skin.
Reference: 65118001
Firms and shapes facial features, performs a draining action.