There are no more items in your cart
Shipping

Free

Total

€0.00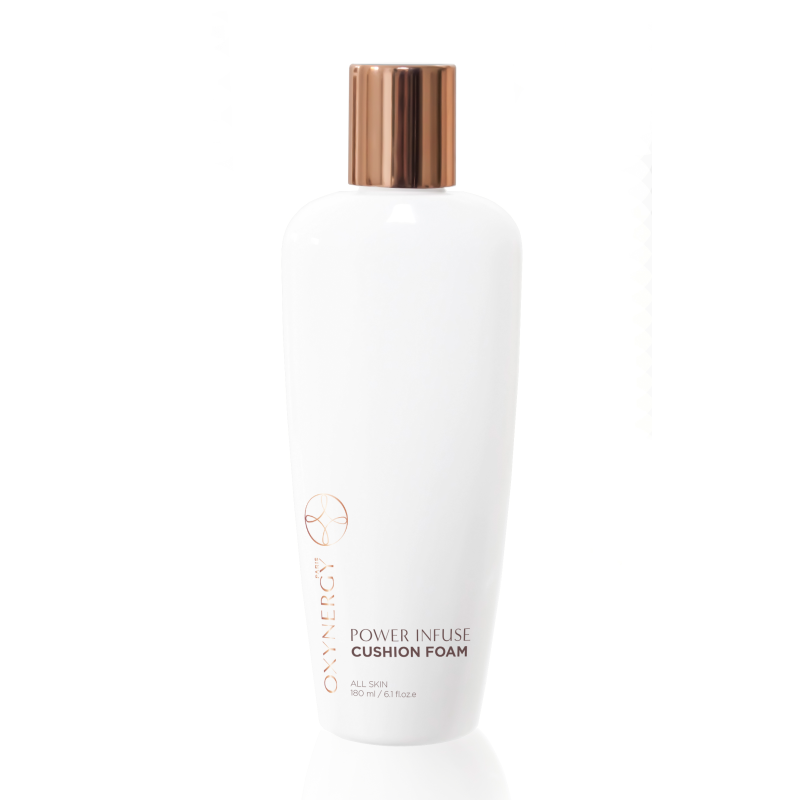  
OXYNERGY POWER INFUSE CUSHION FOAM, 180 ml
Ultra-smooth, mild and rich foaming cleanser with amino acids, peptides and essential trace elements (Copper, Zinc, Calcium, Magnesium). The cushion foam contains also micro sponges that smoothly massage the skin and remove impurities clogging pores. The cleansing agent we are using is a real innovation, it is natural, non-aggressive, ecological and produced from a sugar. Sulfate free it is respectful for the skin and also for the environment.
SKIN TYPE & INDICATIONS:
- For all skin conditions.
- Cleanse the skin gently.
- Moisturizes & refreshes.
- Boosts oxygen consumption of the skin cells and increases the natural energy of our cells (ATP).
- Stimulates cellular renewal, for a brighter skin.
- Revitalizes the cutaneous metabolism and insures long-term rejuvenation of the cell's vital functions because of a growth factor like activity.
- Provides the skin with nutrients responsible for maintaining biological balance.
- Helps the skin to defend oneself actively against tiredness, stress and ageing.
- Calcium protects against ageing process (anti-hyaluronidase activity, reduces glycation, neutralizes free radicals).
CLINICAL RESULTS:
- Increases fibroblast and keratinocytes regeneration up to 70%.
- Increases O2 consumption of fibroblast and keratinocytes.
- Increases cellular respiration up to 45% after 50 minutes.
- Increases formation of pyruvate for supplying the cellular energy production (ATP) up to 28% after 2 hours.
- Increases ATP production up to 34% at 6 hours and 38% at 24 hours.
- Increases DNA synthesis (activation of epidermal renewal) up to 15% at 24 hours.
- Increases the production of proteins (activation of cellular metabolism) up to 15% at 24 hours.
HOW TO USE:
Moisten face and hands, pour a dime-size amount of cleanser into palm and work on the face. Massage for 2 minutes and rinse thoroughly.
ACTIVE INGREDIENTS:
- Amino acids.
- Peptides.
- Essential trace elements (Copper, Zinc, Calcium, Magnesium).
FORMULATION SPECIFICITIES
- Does not contain paraffin.
- Does not contains silicon.
- Does not contain parabens or harmful preservatives.
- PEG free.
- Balanced pH.
- Does not sting eyes.
- Sulphate free.
- Natural and ultra mild cleansing agent.
- Colouring free.
16 other products in the same category: