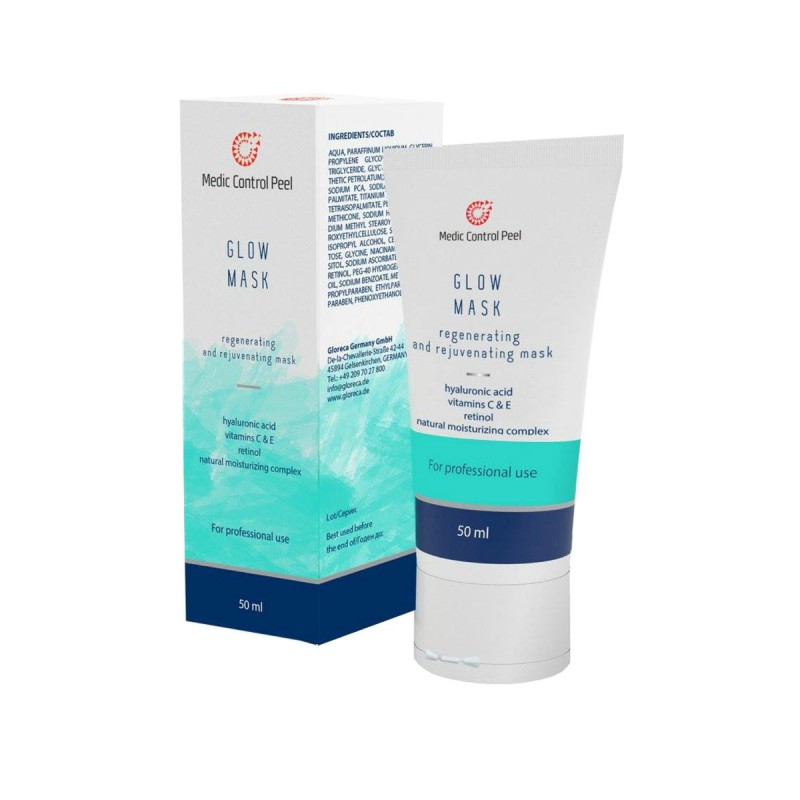  
GLOW MASK, 50 ml
Has a pronounced regenerating, rejuvenating and radiant effect.
Mask for face skin with hyaluronic acid, retinol and vitamin C. Has a pronounced regenerating, rejuvenating and radiant effect.
The special structure of the mask allows the active substances to penetrate into the deepest layers of the skin. Stimulates the production of young collagen and elastin, improves skin vitality and elasticity, reduces the depth of wrinkles, smoothes the relief, smoothes the skin. Evens out and improves complexion. Protects against free radicals and counteracts photoageing. Intensively moisturizes and nourishes, improves trophism and accelerates regeneration processes, regulates cell division and metabolism. Instantly removes imperfections of dull, tired skin, restores radiance and freshness.
Intended to be applied after superficial chemical peels: enhances their effectiveness, soothes and removes redness; as well as a step of professional skin care protocols according to indications.
Directions: Apply to the skin for 15-20 minutes. Rinse with water. For professional use. In case of contact with eyes, rinse with water.
Store at the temperature between +5 and +25 °C.
Made in Russia, Martinex
2 other products in the same category:
Reference: 340661
Extra-strength UV protection SPF 85 cream with antioxidant action.
Price
€49.30
Regular price
€58.00
 In stock
Reference: 341835
Reparative anti-inflammatory balsam for damaged skin.